Now that you have drawn a line of "best fit" we can use this line to make predictions. For example, if someone had a radius bone that was 17 cm, what would you guess his or her height to be?
Is it possible for someone to have a 17 cm radius bone and have a height of 170 cm? Why?
Having some fun with lines of "best fit"


What if Shaq O'Neil (former Miami Heat basketball player) walked into the room? Could you predict the length of his radius bone? (O'Neil is 7í 2Ē tall. (Convert his height to centimeters.) How confident are you about your prediction?


In 1951 Eddie Gaedel* batted one time for the St. Louis Brown's baseball team.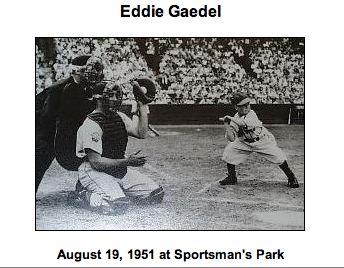 Eddie was 3' 7" (110 cm) tall. Use the graph that you made to predict the length of Shaq's and Eddie's radius bones.
* More on
Eddie Gaedel